//happy valentine's day: featuring cyborg, raven, and ophelia//
Well its that time of the year again... where love birds are as happy as a well-fed Silkie and single people are either hoping to find someone or cursing the 14th of february...
that's right my duckies! It's Valentine's Day and that means Valentine's Day artwork (and a non-VDay one for you single cats out there).
First up... my fave TT couple (only recently did it beat out RobRae)
Cyborg and Raven
I call this piece "The 'Sometimes' Glances"
and for you single people out there... meet my home girl...
Ophelia the Ogre Slayer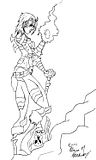 Happy Valentine's Day y'all... hope its a good one.
and on a side note... YAY the TT video game comes out on VDay. Happy day for me!